The Player is a protagonist you play as in first person view in Five Nights at Herobrine's . He/she is a Minecraft player that is left in his/her home. 
Appearance
This character could be any Minecraft player you can think of. For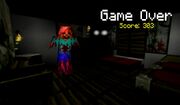 example, it can be famous Youtubers like Sethbling, Skydoesminecraft, CaptainSparkles, TryHardNinja, Blue Monkey, or Element Animation (just to name a few.)
However, when you look at the player in the game over screen, he seems to be a regular version of Steve.
Speaking of the game over screen, The Player has blood around him. His brain and his other flesh is seen on him. He also has no arms.