Steve is one of the four main antagonists of Five Nights at Herobrine's. He is a ghost that roams in The House.
Appearance
Steve (in the game) is an inverted version of the normal Minecraft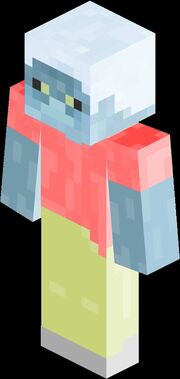 Steve. He has a blue-grayish skin and has white hair, along with a neon-grayish moustache. He also has black eyes with yellow-green pupils. He also wears a bright red shirt, yellow-green pants, and wears light-gray shoes.
Most of the times though, he can be transparent as seen in some of the cameras.
In his jumpscare however, he is not transparent. He also appears to have hollowed eyes.
Locations
Steve will start at the Dining Room behind the window. He will then go inside the Dining Room before heading towards into the Audio Room, the Living Room, to the Ladder Entrance, then heads towards to the Bedroom if the player (like Alex) fails to close the Iron Trap Door in front of Steve while he is in the Ladder Entrance.
Behavior
Steve has the same A.I as Alex (except they don't be at the same location) as they both go away from the Bedroom if the player slams the Iron Trap Door in front of him while he is in the Ladder Entrance. If the player fails to do this, he will then jumpscare the player, however, he will not end your night after that.
Trivia
Like everybody else, Steve has his own unique color.

However, Notch could also have Steve's color as he seems to change color in a different situation.

Steve's photo negative color could be a reference to Photo Negative Mickey from another FNaF Fan Game called, Five Nights at Treasure Island.
Steve and Photo Negative Mickey have much in common as they are both photo negative, both males, and both antagonists of games.